Retaining Walls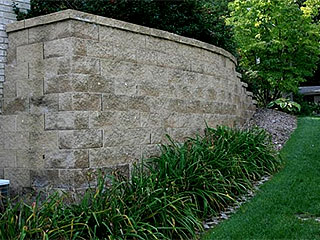 There are a number of properties that have sloping outdoor spaces. A slight slope helps create great landscape effects, but if it is too steep, that can prove to be a hindrance for the construction of features such as outdoor kitchens, driveways, patios etc. These areas need leveled land and a certain amount of excavation would be required to make space for them. Once the soil has been dug, retaining walls would have to be built to hold the soil back in place.

Evergreen Landscaping Services Inc provides excellent retaining wall services to customers in and around Holland, Zeeland, Grand Haven, Saugatuck and South Haven. They also cater to a number of customers across Spring Lake, Douglas, Macatawa, Port Sheldon, and Fillmore. These are the materials used to build these walls:


Retaining Wall Blocks
Concrete blocks are ideal for building retaining walls. They are sturdy and strong and very long lasting too. The installation is quicker as the blocks have a modular design and this makes the construction more cost-effective as well. These modular blocks are called Concrete Masonry Units and you can clad these in natural stone veneer or brick veneer, to give them an attractive appearance.


Concrete Blocks
Today there is a lot of advancement in block building technology and interlocking blocks are an excellent choice to build retaining walls. These walls are very different from regular walls, as they are specially engineered to bear the weight of the soil and prevent soil erosion. This is exactly why sturdy materials such as concrete blocks are a great choice for these. If you don't like the look of plain concrete, you can choose to get these surfaced with stone or brick veneer.


Building A Retaining Wall
Retaining walls add support to the landscaping and prevent soil erosion. These walls should be made with strong materials, but they also need to be constructed in an expert manner. A good landscaping company will always deploy experienced stone masons for the job. They would ensure that the retaining wall is built expertly and that it will last for a number of years.


Retaining Wall Design
The design of the retaining wall will be dependent on what the grading of the land is as well as the specific requirements of the clients. There are times when these walls serve a dual purpose and they may have in-built seating that creates a very stunning dimension even as it makes the wall more functional.


Block Wall
Block walls are extremely strong and are made of concrete units that can be constructed in the manner you want. In addition to the blocks, care has to be taken to add the right amount of backfill to ensure proper drainage. These blocks can be used to build multi-leveled walls too and you can choose to have planters built along with them.

When you are getting any retaining walls built, you need to be assured that an experienced and credible company like Evergreen Landscaping Services Inc is handling the job for you. This will ensure you have outdoor spaces that look superbly beautiful and last for a long time.

"MORE ARTICLES"

Landscape Design
Landscaping
Lawn Care
Pavers
Outdoor Living

We Provide Services to the Following Cities, Towns and Surrounds of West MI: