Landscaping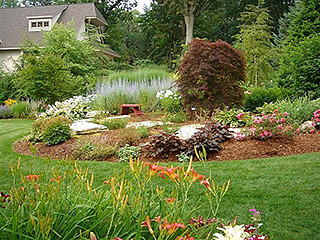 When you are getting your garden or yard designed, you want to be sure that these spaces look beautiful and are functional too. It's why you hire the services of a landscape designer. These professionals work in a very scientific and systematic manner and ensure that you get landscaped spaces that match your requirement to perfection.

Evergreen Landscaping Services Inc provides excellent landscaping services to customers in and around Holland, Zeeland, Grand Haven, Saugatuck and South Haven. They also cater to a number of customers across Spring Lake, Douglas, Macatawa, Port Sheldon, and Fillmore. Here are the various aspects covered in it:


Landscape
One of the most important factors of installing a landscape is about getting its design right. Some property owners feel that they might be able to handle this job themselves, but the fact is that planning a landscape well isn't a very easy job. It takes an experienced and skilled landscape designer to plan everything to perfection, use the right features and ensure that the landscape has a well-balanced and cohesive look.


Landscape Design
The functionality of your landscape depends on how well it has been designed and this becomes the first phase of the project. The landscape designer's work closely with the clients to ensure their ideas and preferences are incorporated into the plans and that the features and materials are chosen with care.

The layout of the garden and yard play a very important role in enhancing the overall ambience of the landscape. In addition to that, it adds to the value of the property. The designers will demarcate the areas with care and ensure that there is proper movement flow from the indoor areas to the landscaped ones.


Lawn Care
When residential property owners think of getting their landscape installed, one of the first things they take into consideration is the lawn installation. Grassy areas add to the freshness and liveliness of the property. While it is important to get the right kind of grass installed, it's probably even more important to ensure that the turf is cared for well. Credible landscape companies also provide excellent lawn care packages that include aspects such as mowing, aerating, re-sodding, trimming, fertilizing, de-weeding, pest control etc.


Landscapers
It's vital that you choose your landscapers prudently. You should check how long the company has been in business and what its reputation is. The other aspect to check is whether the company is insured and licensed, and whether they provide guarantees for their work. Check the reliability of the company and whether they are willing to provide customized solutions. Check what their pricing is whether it fits into your budget.

When you are getting any landscaping features installed, and you hire the services of an experienced and credible company like Evergreen Landscaping Services Inc, you can rest assured that the job will be done in a timely manner, the best materials and workmanship are used and that ensures you have outdoor spaces that look superbly beautiful and last for a long time.

"MORE ARTICLES"

Landscape Design
Lawn Care
Pavers
Retaining Walls
Outdoor Living

We Provide Services to the Following Cities, Towns and Surrounds of West MI: