Landscape Design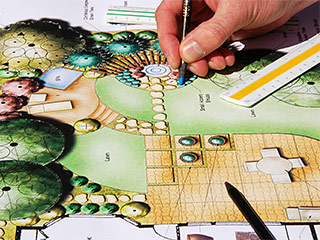 When you are getting a landscape installed, a lot of planning goes into it; and one of the first phases is Landscape Design discussions. The solutions the designers provide will be based on these discussions.

Evergreen Landscaping Services Inc provides excellent Landscape Design services to customers in and around Holland, Zeeland, Grand Haven, Saugatuck and South Haven. They also cater to a number of customers across Spring Lake, Douglas, Macatawa, Port Sheldon, and Fillmore. Take a look at the different aspects involved in this:


Landscape
The landscape on your property is one of the very first things any guest to your home notices. The one way to improve the curb appeal and attraction quotient of your property is to ensure this is designed well. A well planned landscape will always have properly demarcated spaces that can be used for various purposes. For instance you have a lawn, outdoor features etc installed in the landscape.


Landscaping Ideas
When it comes to landscaping ideas, many property owners want something specific. They may have seen landscapes on other properties or even looked online or in home design magazines or may like something specific. They can have these discussions with the designers and get suggestions from them too. This will help ensure that their gardens and yards are designed well and their ideas are given form.


Garden Design
The garden design should be chosen with care; the design concept should complement the design of the house and the other features in the landscape. This can happen only when you have skilled landscapers working on the project. Since they have the experience and exposure to various concepts, they would be able to ensure that the garden design matches your preferences and the overall look of your home.


Patio Design
This is an extremely important phase of the project and your landscape designer will work very closely with you to understand what your specific requirements and budget are. Since the patio is an extension of the indoor spaces of your home, they will ensure that the materials used will match the ones that already exist on your property. This will lend a very cohesive look to the space.


Landscape Designer
A skilled landscape designer would be able to take a very a broad view of how the garden and yard would look once they are installed. They work very closely with the client to ensure that the landscape design and that of the patio and other features will look stunning in every way and match the requirements of the clients.


Landscape Architect
A landscape architect ensures that every aspect of the design is planned to perfection and that every feature has a purpose. These professionals have the certification, skill, training and creativity to handle every job expertly and create functional and aesthetic gardens and yards that will help property owners use these spaces in the most optimal way.

When you are getting any landscaping features installed, you need to be assured that an experienced and credible company like Evergreen Landscaping Services Inc is handling the job for you. This will ensure you have outdoor spaces that look superbly beautiful and last for a long time.

"MORE ARTICLES"

Landscaping
Lawn Care
Pavers
Retaining Walls
Outdoor Living

We Provide Services to the Following Cities, Towns and Surrounds of West MI: