Lawn Care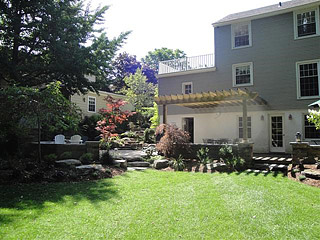 Landscaping is always a combination of various factors; and a well-balanced landscape will always have the right proportion of softscaping, hardscaping, decorative and water features etc. While all these are very important features, most property owners also make it a point to get lawn installations. These grassy patches could be expansive or smaller ones, based on the overall size of your yard and garden. Regardless of the size of the lawn, it's crucial that you maintain it well.

Evergreen Landscaping Services Inc provides excellent Landscape Design services to customers in and around Holland, Zeeland, Grand Haven, Saugatuck and South Haven. They also cater to a number of customers across Spring Lake, Douglas, Macatawa, Port Sheldon, and Fillmore. Take a look at the different aspects involved in this:


Landscaping
When you hire a good landscaper for garden and lawn maintenance, they will ensure that all the landscaping is cared for in the right manner. A well designed and maintained landscape adds to the beauty and value of your property. The company that handles this job for you should have the expertise to provide end-to-end landscape design and maintenance solutions, based on your specific requirements and budget.


Lawn Mower
The landscaping company you hire for the maintenance of your garden and yard will ensure that the lawn care package they provide includes all the necessary aspects. Mowing is very important to maintain the health and growth of the grass on your lawn. The company will use commercial-grade mowers in the job; and at times, will also use manual methods to trim the areas of the lawn that can easily be reached with mowers. They will ensure the grass is cut to the desired height and will also leave some of the trimmings in the grass as organic manure.


Lawn Care Services
While mowing is an extremely important aspect of maintaining a lawn, there are a number of other things that are equally important. Typically, a lawn care routine will also include aeration, de-weeding, pest control, pre-emergent weed control, mulching etc. At times, re-sodding may also be required to cover any bald patches in the grass. All these services ensure the grass lawns stay healthy and look good, right round the year. The landscape maintenance personnel will also check whether the irrigation and drainage systems connected to the lawns are in working order.


Lawn Maintenance
Maintaining your turf isn't an easy task and no matter how much you try, you will eventually find that the task becomes too much for you to handle on a regular basis. This is why it's important to hire the services of a company that will provide you with customized, lawn maintenance solutions. When they are designing these packages for you, they will take aspects such as the size of the lawn, the type of soil and grasses as well as your specific preferences and budget.

When you are getting any landscaping features installed, you need to be assured that an experienced and credible company like Evergreen Landscaping Services Inc is handling the job for you. This will ensure you have outdoor spaces that look superbly beautiful and last for a long time.

"MORE ARTICLES"

Landscape Design
Landscaping
Pavers
Retaining Walls
Outdoor Living

We Provide Services to the Following Cities, Towns and Surrounds of West MI: