Pavers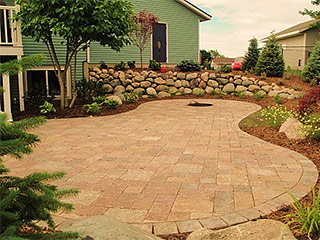 The outdoor spaces on your property tend to see a considerable amount of wear & tear. They are constantly exposed to the elements and have to endure foot and vehicular traffic. This means the walkways, pathways and the driveway flooring material has to be strong and durable. With this in view, pavers are the best material to use.

Evergreen Landscaping Services Inc provides excellent landscaping services to customers in and around Holland, Zeeland, Grand Haven, Saugatuck and South Haven. They also cater to a number of customers across Spring Lake, Douglas, Macatawa, Port Sheldon, and Fillmore.


Paving Stones
Today, the focus is on creating outdoor spaces that are unique and attractive and most people look for exclusive materials that will look stunning and last long. Paver stones are an excellent option and help create spaces that you will love to use and look at. These could be made from various natural stones such as slate, sandstone, flagstone, bluestone and travertine etc.


Patio Pavers
Patio spaces are an extension of the indoor areas of your home and it goes without saying that you want this area to complement the overall appearance of your home. Many people opt for patio pavers and these could be made of stone, concrete or brick. They are hardy and durable and you can choose from a variety of colors, shapes and designs.


Concrete Pavers
Concrete is an extremely strong and durable material and the pavers made of this material are that way too. This material is available in various styles and in interlocking designs as well. You can choose from different colors and shades and create the kind of look you want on your property. A good landscaping company will ensure the installation is done in an expert manner and this means the pavers will last for decades, with just basic maintenance.


Brick Pavers
Many property owners opt for brick paving. This has a very classic appearance and complements the look of various architectural styles. Brick paving is strong and durable and is a very low maintenance material that can last for a number of years. This is a versatile material that is ideal for walkways, driveways and pathways etc.


Paver Stones
These are an excellent option for any outdoor space and help create a very appealing look in the landscaping. You can choose from paving stones made of travertine, slate, bluestone, sandstone, flagstone etc. All these stones are extremely strong and hardy and add to the ambience and functionality of your landscaping.


Driveway Pavers
You can choose from brick, concrete or natural stone pavers for your driveway. You will find there are many colors to choose from, the installation is easy, they are low maintenance and extremely hardy as well. This helps create outdoor spaces that are resilient and appealing.

When you are getting any landscaping features installed, you need to be assured that an experienced and credible company like Evergreen Landscaping Services Inc is handling the job for you. This will ensure you have outdoor spaces that look superbly beautiful and last for a long time.

"MORE ARTICLES"

Landscape Design
Landscaping
Lawn Care
Retaining Walls
Outdoor Living

We Provide Services to the Following Cities, Towns and Surrounds of West MI: